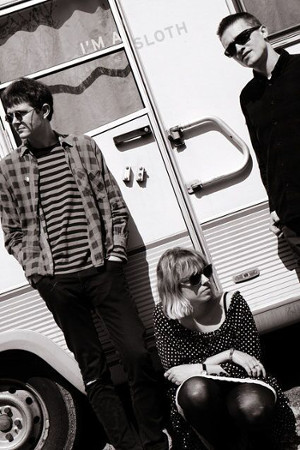 10.05.2018

------ upcoming I'M A SLOTH shows ------

Do, 10.05.2018 - Das BACH (Wien) w/Wet Spinach, The Heroine Whores

Fr, 11.05.2018 - Secret Show (Ybbsitz) w/The Heroine Whores

Sa, 02.06.2018 - Das Werk (Wien) Donaukanaltreiben

Do, 14.06.2018 - Container Collective (München/DE) w/Bombo

Sa, 16.06.2018 - M.V.B (Leipzig/DE) Grungopalooza Festival w/The Heroine Whores, Fukked Up, Celladoor

Fr, 22.06.2018 - Donauinselfest (Wien) 17:00 | SJ-Bühne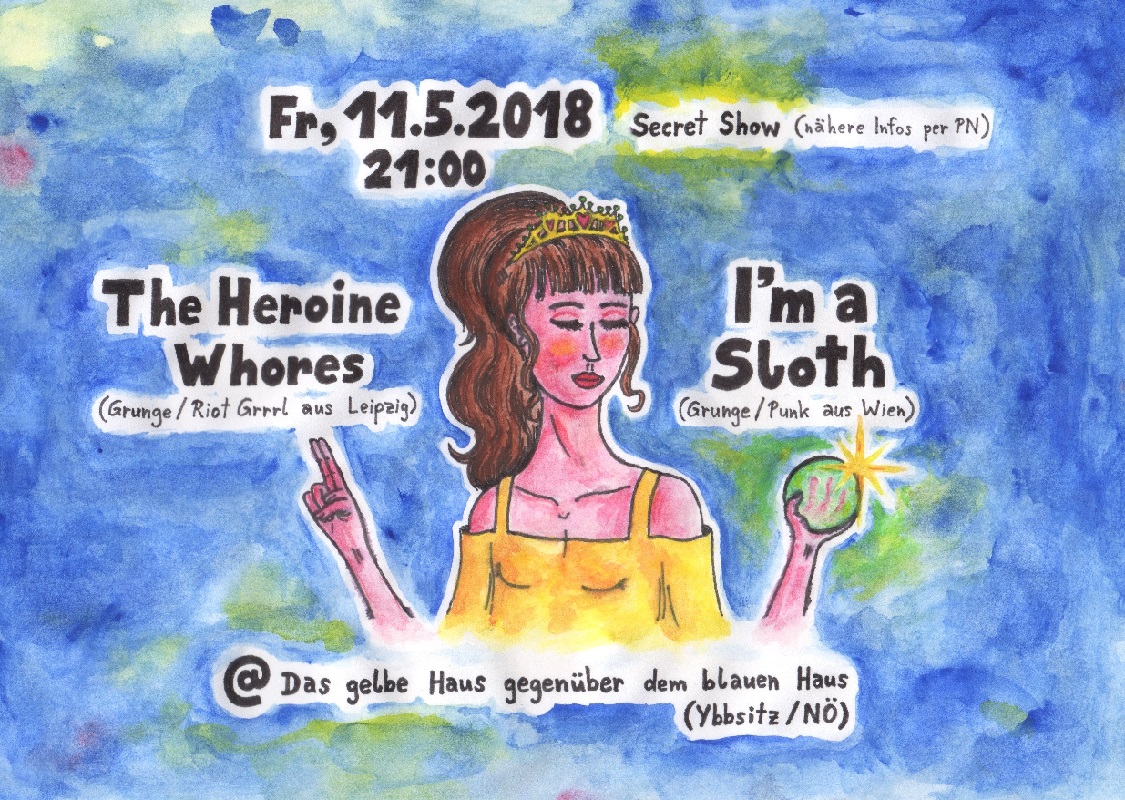 17.04.2018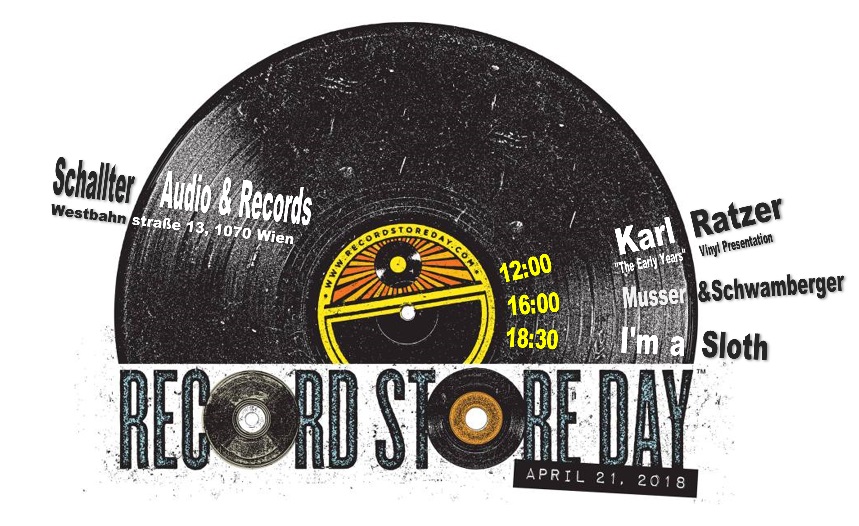 30.03.2018

Kurt Cobain Tribute Promovideo:


10.02.2018

Wir spielen am Mo, 12.02.2018 | 20:00 beim FM4 Protestsongcontest Finale im ausverkauften Rabenhof Theater!!
Wer keine Karten mehr dafür ergattern konnte, kann sich den Livevideo-Stream auf fm4.orf.at anschauen bzw. dem Event via Radio beiwohnen. Und bitte fleißig für uns online mitvoten :)

FB Event

Guckst du FM4!


19.01.2018

YES, wir haben's ins radio FM4 Protestsongcontest Vorfinale geschafft!!
Das Ganze findet am Fr, 26.01.2018 | 19:30 bei freiem Eintritt im Haus der Begegnung Rudolfsheim (Schwendergasse 41, 1150 Wien) statt!!


18.10.2017

I'm a Sloth zu Gast in der FM4 House Of Pain - Basement Show!!


Wir plaudern mit Christoph Sepin über unser neues Album "BOSOM" und wie man seine Demos am besten benennt. STREAM: http://fm4.orf.at/player/live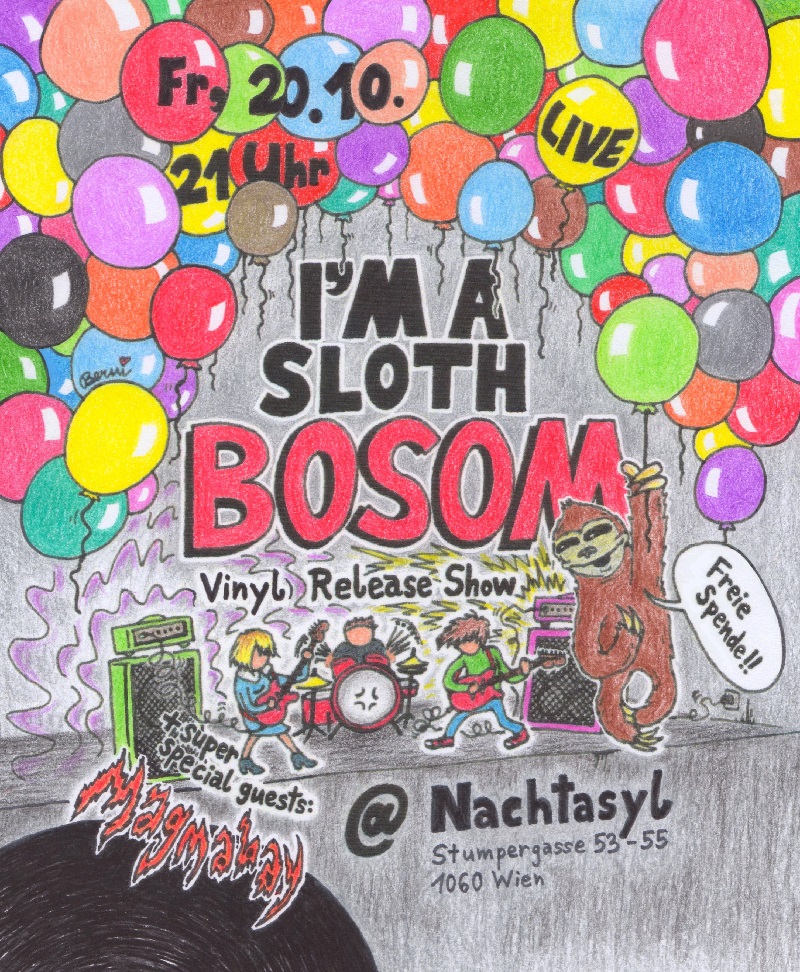 05.10.2017
I'm a Sloth - Bosom | Tourdates
- Fr, 13.10.2017 @ Sputnik Rockcafe (Linz/AT)
Vinyl & Music Festival Aftershow feat. I'M A SLOTH - BOSOM Vinyl Pre-Release Unplugged Show

- Fr, 20.10.2017 @ Tag/Nachtasyl (Wien/AT)
I'M A SLOTH - BOSOM Vinyl Release Show
+ special guests: Magmabay

- Do, 26.10.2017 @ Café POTRVÁ (Prag/CZ)
I'm a Sloth & The Black Bones & Red Torch | Café Potrvá/Praha
presented by Silver Rocket Records (www.silver-rocket.org)

- Fr, 27.10.2017 @ Karl Helga (Leipzig/DE)
w/The Heroine Whores, The Black Bones, Dead Honeckers

- Sa, 28.10.2017 @ Luther 33 (Dresden/DE)
w/The Black Bones, Die UNICORN-Verschwörung

- So, 29.10.2017 @ Klapperfeld Ex-Gefängnis (Frankfurt am Main/DE)
The Heroine Whores // I'm a Sloth // The Black Bones

- Sa, 09.12.2017 @ club wakuum (Graz/AT)
w/Punching Trees, Vicky Champagne




31.08.2017

I'M A SLOTH - BOSOM | September Tourdates:


02.09.2017 - Volksstimmefest (Wien) 17:00 | Jura Soyfer-Bühne
07.09.2017 - Kramladen (Wien) w/Everyday Circus, Can I Say
22.09.2017 - frei:raum (St.Pölten) w/NFMS "Smoking Kills" Album Release Show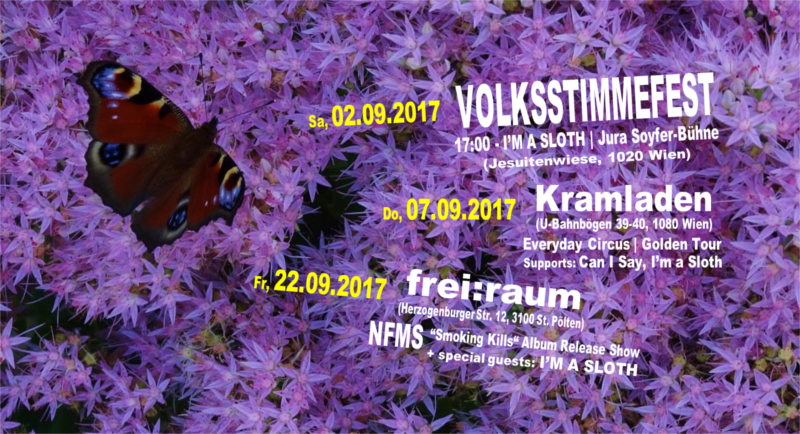 20.07.2017

I'm a Sloth - Bosom
CD Release Show

Do, 27.7. // 19:30
@ Popfest Wien/Karlsplatz
Red Bull Brandwagen
FB-Event: Popfest 2017 Day 1 Red Bull Brandwagen | I'm A Sloth, Postman

16.07.2017

Ein Daumenkino-Musikvideo zum Song "Titanic" kommt bald!!

26.04.2017

Live in Vienna
Unsere nächste Show findet im ehrwürdigen Cafe Carina statt.

Als Supports mit dabei:

The Black Bones (Rock'N'Roll aus Innsbruck/Wien)
https://theblackbonesmusic.bandcamp.com/

CAROUSALS (Ambivalent Indie Rock/No-Gaze aus Wien)
https://carousals.bandcamp.com/

Der Eintritt ist frei, die MusikerInnen freuen sich aber über eure Spenden.
02.03.2017

Willkommen auf der Website von I'M A SLOTH!
Die nächsten Konzerte:
24.02.2017 - Jugendzentrum Jayzee (Imst/Tirol) Upload On Tour w/Insane Mess, Maude, CathVal
05.04.2017 - Flex (Wien) (VIENNAs FIRST) 90ies CLUB - KURT COBAIN Tribute w/Bulbul, The Black Bones uvm.
02.06.2017 - Café Carina (Wien)